Twinko is described as a thick-furred, pale gray tom with
darker flecks, dark blue eyes and a torn ear. In most fandom of Scourge x Ashfur he is drawn as the "twinko."
Twinko and Bearo's relationship is in the eye of the beholder. Most people draw Twinko/paw as being very scared and shy around Bearo. Others draw him as being very loving, and loyal. Twinko/paw seems to be very protective of Bearo, just as he is with Squirrelflight.
Offspring
Edit
A couple of people have jokingly made fake Bearo and Twinko kits. Most if not all of them have flecks, and are male.
Unnamed Twinko: Not much is known about him. He was made for a contest. He is a dark grey hit, with a distinct lighter grey pattern, white paw, black tail-tip and blue eyes.
Twinkokit: Twinkokit is a light gray tom, with darker gray flecks and tail. Not much is known about him, except that he has a younger brother named Rexkit.
Bearokit: Twinkokit's younger brother. He is a dark gray tom, with lighter flecks and blind in one eye. He is described by his creator as: anti-social, shy, and fearful.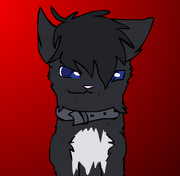 Otteroclaw: Baneclaw is a dark grey tom with darker flecks, a white chest and tail tip, grey collar and dark blue eyes. He is proud, confident, yet quiet and withdrawn.
Mother: Brindleface
Sister: Ferncloud
Mate: Scourge (in fandom)
Aunt: Frostfur
Uncles: Ravenpaw, Dustpelt
Grandmother: Robinwing
Grandfather: Fuzzypelt