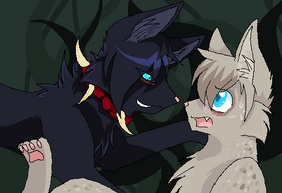 RevengeShipping was created on June 10th by Tigga-Jones: a user on an art site named DeviantArt. It was created by pairing Tigga's favorite characters: Ashfur and Scourge.
The second, and co-creator of the pairing was Tsukaimon, yet another user on DeviantArt. The two created a group and started to draw fan-art of the pairing.
The pairing gained immense popularity when another user on DeviantArt: Reaper-Neko drew a picture of the pairing. The picture currently has 500 favorites, 227 comments, and 7,213 views.
The RevengeShipping group has become more popular since there, having 55 members, and it keeps to grow in popularity.
As of January 2011, the pairing has been steadily getting more well-known and popular. The RevengeShipping group on DeviantArt currently has 132 members, and 149 watchers. There are currently around 120 pieces of fan art currently on DeviantArt, and 10 fan-videos on YouTube.